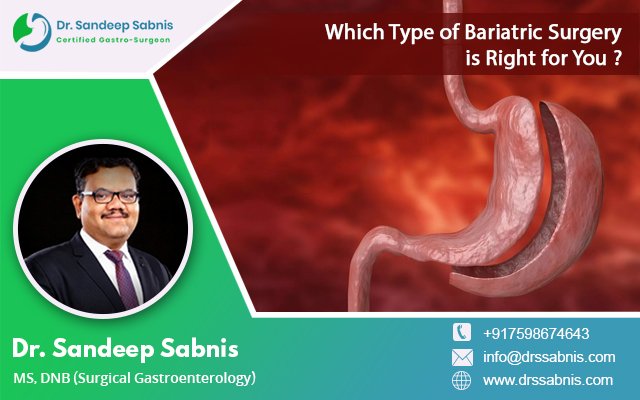 Weight loss surgery or bariatric surgery is one of the best methods by which you can lose weight rapidly. Several procedures are available for you to choose. However, not all of those are suitable for everyone, says Dr. Sandeep Sabnis who is a renowned bariatric surgery doctor in Nashik. So, which one of the procedure is appropriate for you, and what are the criteria that will help you to choose? In this post, you will learn all this.
Types of Bariatric Procedures
Bariatric procedures are usually of two types: malabsorptive and restrictive. Malabsorptive procedures ensure that your body does not digest as much of the calories that you take. Restrictive procedures, on the other hand, make it so that you cannot eat as much food. Some bariatric surgeons in Nashik may use both the methods to trigger weight loss.
Gastric Bypass
Gastric bypass involves isolation of a small part of the stomach and converting it into a pouch where the food that you eat can be stored and digested. The remaining portion of the stomach is connected to a lower area of the small bowel to help reduce fat absorption.
Gastric sleeve
It removes a large section of the stomach and changes its shape, making it look like a sleeve. The parts removed include portions, which make ghrelin, a hormone responsible for signaling hunger and increasing food intake. This procedure is relatively new and is less costly than gastric bypass.
Biliopancreatic Diversion
According to the best bariatric surgeon in Nashik, this procedure is basically a combination of two procedures that are generally done together. It is a complicated procedure that changes the shape of the stomach into a sleeve and then reroutes the digestive system by developing a gastric limb.
Adjustable Gastric Band
It is also referred to as the Lap-Band and is a completely restrictive procedure that is also adjustable and reversible. The procedure is performed by placing a band around the stomach for restricting its size. The surgeon can adjust the band in case of inadequate weight loss or discomfort.
Intragastric Balloon
It is a temporary procedure that restricts you from eating an excess amount of food. A balloon is placed in the stomach and it is filled with saline solution through a catheter that is inserted down the throat. The gastric balloons are typically removed after six months, says the weight loss surgery doctor in Nashik.
Which Procedure Is Right For You?
Gastric sleeve and gastric bypass are usually recommended over the others. The surgeon will recommend one treatment procedure over another based on his expertise and your body physiology. Your bariatric surgeon in Nashik will recommend the procedure that he believes is best for you.