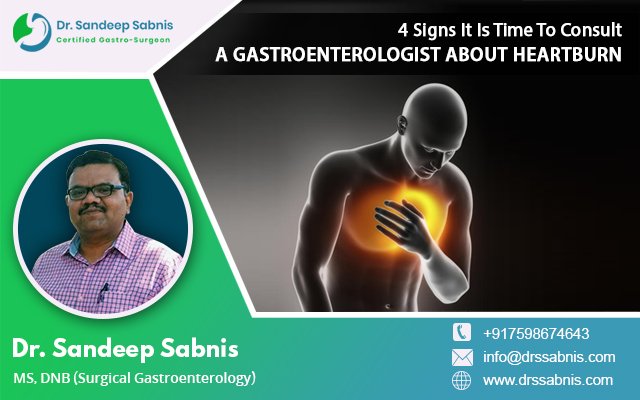 Almost everyone experiences the occasional heartburn, and most of them consider it as a minor nuisance. But sometimes, simple heartburn can become a health hazard. Dr. Sandeep Sabnis, one of the most experienced gastroenterologists in Nashik, explains everything you need to know about heartburn.
Is There Any Difference among Heartburn, GERD, and Acid Reflux
While these medical terms are sometimes used interchangeably, they differ in their meanings and severity. Acid reflux is a condition that can vary from being mild to serious; whereas, GERD is the more severe and chronic acid reflux. Heartburn often occurs as a symptom of GERD and acid reflux.
What is Heartburn
It is simply an irritation, which can be a discomfort or burning pain in the mid- or upper-chest (occasionally involves the throat and neck) that gets worse while lying down. This irritation typically occurs due to excessive intake of spicy foods, heavy alcohol consumption, and wearing tight clothing, says the best gastroenterologist in Nashik.
Treating Mild Heartburn at Home
For occasional heartburn, try managing it at home using lifestyle changes and having over-the-counter medicines. The gastrointestinal specialist in Nashik encourages eating smaller meals, along with eliminating spicy, overly-fatty foods as well as carbonated beverages to help manage your heartburn.
Moreover, shedding the extra pounds, cutting out cigarettes, andmanaging stressare some of the healthy choices for lessening your heartburn. Also, try to adjust how you dress and probably how you sleep. Raising the head of your bed by 4-6 inches may provide some relief.
When to Consult a Stomach Specialist in Nashik for Heartburn
At times, heartburn becomes aserious health problem and maynegatively impact daily life. You should book an appointment with the top gastroenterologist in Nashik if you experience any of these symptoms:
Heartburnfor more than 2 times a week
Symptoms that persist even after using OTC medicines for over 2 weeks
Loss of appetite, vomiting, difficulty swallowing, nausea, or sudden weight loss
There are times when heartburn couldindicate a serious underlying condition, including a heart attack. Seek emergency medical care if you show any of these symptoms:
Pressure or pain on your chest, which mayspread to the arms, back, neck, or shoulder
Sweating
Nausea
Lightheadedness
Shortness of breath
For heartburn treatment, make sure to consult the best gastroenterologist in Nashik. Ignoring persistent heartburn episodes can be dangerous, as it wears away the lining of the oesophagus, causing ulcers.
Tags: best gastroenterologist in Nashik, gastroenterologists in Nashik